Germany Cruise Reception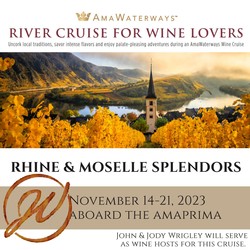 Foy Renfro will be back at J Wrigley for one last opportunity to meet your fellow travelers, have your last minute questions answered - and enjoy the opportunity to hear the answers to questions you didn't think to ask!
Please RSVP through the reservation site.
Be in the know!
Sign Up For Our Newsletter
Keep up to date on the latest wine releases, events, and promotions.