Taste of Bordeaux 2021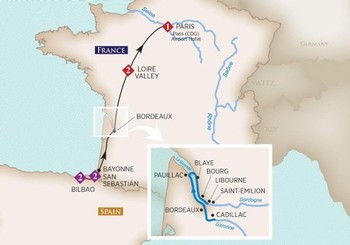 J Wrigley Vineyards 2021 Wine Cruise!
AmaWaterways has offered John and Jody Wrigley to be the wine hosts on The AmaDolce embarking in Bordeaux, France for Taste of Bordeaux on November 11, 2021.

J Wrigley Vineyards and Journey To & Fro Travel are both hopeful and excited to have a new travel opportunity to share. This 7-night cruise also has a 4-night pre-cruise itinerary that incorporates the best of Spain's Basque culture. It also has a 3-night post-cruise offering that allows you to enjoy some of the main highlights of the Loire Valley (2-nights) before arriving for a final overnight near Charles de Gaulle Airport outside of Paris.

A $400 p/p deposit is required to finalize the booking.

More information can be found by Clicking here!
Be in the know!
Sign Up For Our Newsletter
Keep up to date on the latest wine releases, events, and promotions.