Wellness in the Vineyard
| | |
| --- | --- |
| Date: | Sun, Jul 10, 2022 |
| Time | 8:00 AM to 12:30 PM |
| Venue: | J Wrigley Tasting Room |
| Phone: | 503-857-8287 |
| Email: | info@jwrigleyvineyards.com |
Find Wellness in the J Wrigley Vineyard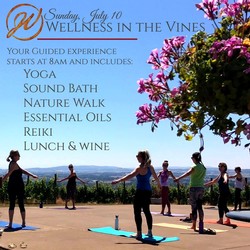 Your guided experience starts at 8am and includes yoga, nature walk, essential oils, Reiki and singing bowls. Lunch & wine will be provided by J Wrigley, and is included in the $95 event fee.
Advanced payment and reservations required. Limited space available for this event. Meet your wellness guides:
Ariel
Ariel Eberle has been in communion with nature for 16 vintages; making wine, observing the changing seasons, and learning from what the sun, vines, trees and winds whisper in their own unique dialects. Ariel was certified in Usui Holy Fire Reiki Level I & II in 2020, she acts as a conduit of pure life force energy and universal unconditional love to offer presence, hold space, and aid her clients on their own healing journey. Ariel has felt the power of vibrational and sound healing and incorporates singing bowls and other forms of sound, smell, spoken word and touch in her sessions. Her goal is to raise the collective vibration, aiding humanity by being a visionary for a brighter and more spiritually aligned future.
Carissa
Hi I am Carissa Felix a 200 hour R.Y.T. certified yoga instructor with over 10 years of teaching experience. My teaching style is centered around the breath and flow. Breathing with intention and connection is one of the most important aspects of a yoga practice. The flow of a class depends on the participants. I can lead a beginner class or a vigorous vinyasa practice. My goal as a yoga instructor is to help release stress and tension from the body and the mind. To lead with love.
Be in the know!
Sign Up For Our Newsletter
Keep up to date on the latest wine releases, events, and promotions.